Marie Shelly to be featured artist at July First Friday Open House
Join us on Friday, July 7, 2023, from 5 to 8 pm for a First Friday open house at the beautiful Sehner-Ellicott-von Hess House located at 123 N. Prince Street, Lancaster, PA, in the heart of Gallery Row. We will be hosting artist Marie Shelly for a one-night-only pop-up art show.
Meet the Artist: Marie Shelly
It's never too late to be who you were designed to be.  When you are born, your parents give you a name and most times, that is what people call you for the rest of your life. Maybe that is why it seems somewhat natural to wait around for someone to decide your title. I waited a long time for someone to point me in the direction of my own dreams. I tried to do what I thought I was "supposed" to do. I've come to this game kind of late, but finally realizing that nobody is really more qualified than I am to assign that title to myself.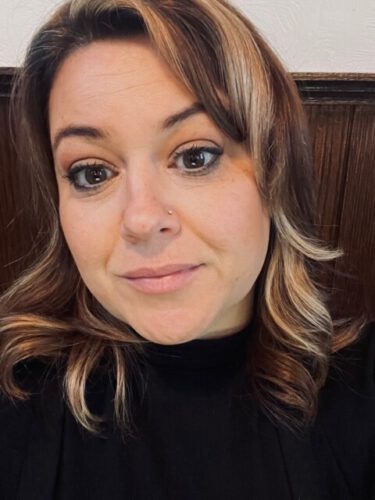 Regardless of what the "experts" may think, I know by the way my heart skips a beat when there is a blank canvas sitting in front of me. I know by how fresh I feel when I am covered in paint.  I know because when my heart needs peace, I find myself creating. Maybe we can't do much about the bad things in the world, but we can add goodness and beauty. That is my mission. I am an artist.
I live in Lancaster County, Pennsylvania. This is where I grew up, and this is where I am raising my great big family. I am married to a handsome, patient, and supportive guy named Chris.  We will celebrate twenty-four years of marriage this summer. We have six kids.  We had three the old-fashioned way and then doubled our family through domestic adoption via foster care.
It's messy sometimes, but there is plenty of emotional overflow to feed my creativity, and it's funny that the creativity helps me manage the emotion. It's all about balance.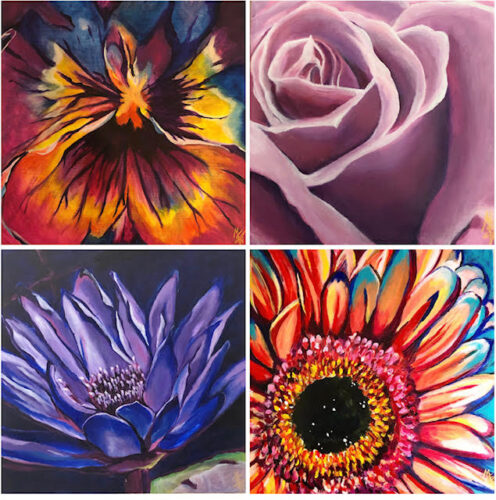 I hope you can connect with what I do and maybe even support me through a purchase or promoting and sharing my work with those who may like what I do. Art is meant to be seen, and I love the idea of making it accessible and affordable to everyone.  I hope to see you on July 7!
For additional details about Marie Shelly, visit her website at dailypaintworks.com.
Uncharted Lancaster 
Adam Zurn from Uncharted Lancaster will be here with a mini-adventure that celebrates both downtown Lancaster and the building's history, as well as local architecture. Fun prizes are up for grabs with your choice of either a 1.25″ soft enamel pin, a 3″ embroidered patch, or a 1.18″ metal replica Spanish Doubloon.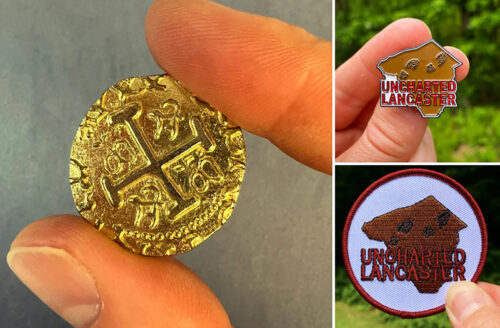 Historic Preservation Trust of Lancaster County Items for Sale
Historic Preservation Trust of Lancaster County
The Trust was established in 1966 to help "stem the rapid destruction of historic properties in Lancaster County." Through the years, the Trust has been active in helping to preserve many historic properties in Lancaster County that contribute to their respective communities as unique places for people to live, work, and play.
Our equation for success has been working for over 50 years. Look around you and know that our advocacy and direct action have resulted in saving hundreds of historic structures and other sites throughout the county. The flip side is that not everything can and should be saved. The Trust continually faces this delicate balance and works closely with all parties involved to reach an equitable decision for all. Sadly, it sometimes takes an irreplaceable loss to a community before preservation moves higher on the priority list.