The Story of Membership
Here, in Lancaster County, we share a common bond: the unique history of this wonderful place. Not only was Lancaster once the capital of the United States and the site of Milton Hershey's first chocolate factory, Lancaster was the home to Thaddeus Stevens (1792-1868) -- the powerful congressman played in the movie "Lincoln" by Oscar winner Tommy Lee Jones.
Fortunately, the Thaddeus Stevens home on South Queen Street still stands as part of the Lancaster Convention Center. Unfortunately, the chocolate factory built by Milton Hershey (1857 –1945) is no longer on Church Street.
Our goal at the Historic Preservation Trust is to bring individuals and organizations together to identify and protect homes, barns, bridges and other structures that are historically significant. We do this by surveying properties countywide to identify those that should be saved. Lists of surveyed properties then are recorded at the Preservation Trust and shared with municipalities. Once in municipal records, the Preservation Trust is notified should a historic structure be threatened by neglect or demolition. When notified, we assess whether the structure is worthy of being saved. If it is, we work to build coalitions to protect it.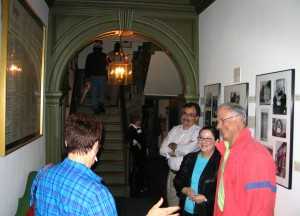 Another key component of our mission is to educate. All too often, preservation is taken for granted. Residents and visitors alike appreciate the many historic structures that add beauty to our county. Few stop to reflect on what it takes to have the vision and gain the public-private support needed to make a historic structure an often-photographed landmark. We advise property owners, realtors, government officials and others and make our extensive library on historic preservation available to members at no charge. Our events, such as the popular Gourmet Gala in the summer and the fall architectural tours, showcase properties that are to be restored or have been restored.
If you have questions about membership, volunteering or contributions, please Contact Us.
Choose From These Membership Levels
Memberships are valid from January 1-December 31 of the calendar year in which they are purchased
Your membership dues are considered a fully-deductible charitable contribution.
(consult your tax preparer for details)
Student/Senior
$25
/ Year
Individual
$35
/ Year
Government / Non-Profit
$50
/ Year
Business
$100
/ Year