Jordan Knisely to be featured artist at May First Friday Open House
Join us on Friday, May 5, 2023, from 5 to 8 pm for a First Friday open house at the beautiful Sehner-Ellicott-von Hess House located at 123 N. Prince Street, Lancaster, PA, in the heart of Gallery Row. We will be hosting artist Jordan Knisely for a one-night-only pop-up art show.
Meet the Artist: Jordan Knisely
Jordan Knisely is an illustrator and visual development artist at the School of Visual Arts in New York City and a graduate of Lampeter-Strasburg. She will be selling prints, stickers, paintings, pins, keychains, apparel, and more!
Get to know Knisely better with this self-portrait.
Here are some samples of her work.
Timelapse of Knisely working on one of her pieces.
View this post on Instagram
For additional details about Jordan Knisely, visit www.jaykaydraws.com.
Uncharted Lancaster 
Adam Zurn from Uncharted Lancaster will be here with his exclusive mini-adventure that celebrates both downtown Lancaster and the building's history, as well as local architecture. Fantastic prizes are up for grabs with your choice of either a 1.25″ soft enamel pin, a 3″ embroidered patch, or in honor of his $2,000 treasure hunt, a 1.18″ metal replica Spanish Doubloon.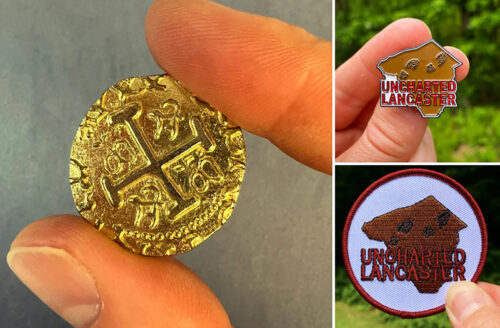 Historic Preservation Trust of Lancaster County Items for Sale
Jewel of the Susquehanna Treasure Hunt
We will also have beautiful 18″ x 24″ prints of the 1899 Road Map of Lancaster County for sale. This restored and edited document serves as the map for Uncharted Lancaster's Jewel of the Susquehanna Treasure Hunt, with profits going toward our digital archiving project. Click here to read more about this exciting five-week-long treasure hunt.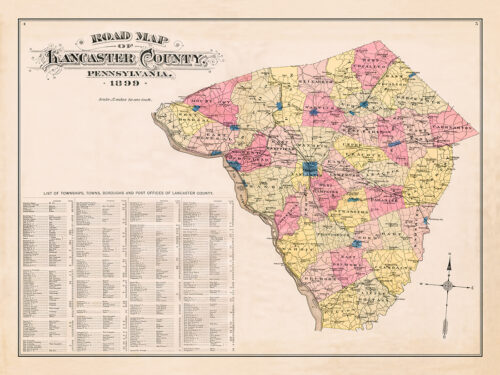 Can't make the open house? Click here to order your treasure map online today.
Historic Preservation Trust of Lancaster County
The Trust was established in 1966 to help "stem the rapid destruction of historic properties in Lancaster County." Through the years, the Trust has been active in helping to preserve many historic properties in Lancaster County that contribute to their respective communities as unique places for people to live, work, and play.
Our equation for success has been working for over 50 years. Look around you and know that our advocacy and direct action have resulted in saving hundreds of historic structures and other sites throughout the county. The flip side is that not everything can and should be saved. The Trust continually faces this delicate balance and works closely with all parties involved to reach an equitable decision for all. Sadly, it sometimes takes an irreplaceable loss to a community before preservation moves higher on the priority list.