Historic Preservation Trust to welcome visitors at 123 North Prince Street for April First Friday
This is no April Fool's prank!
Join us on Friday, April 1, 2022, from 5 to 9 pm for a First Friday open house at the beautiful Sehner-Ellicott-von Hess House located at 123 N. Prince Street, Lancaster, PA in the heart of Gallery Row. We will be hosting artist Evanna Morris for a one-night-only pop-up art show.
Here are a few words from the artist about herself.
I have always enjoyed the creative process whether it is painting, weaving, gardening or cooking. For the last 10 years, my passion has been watercolor painting.
I love to experiment with new techniques and subject matter and go a little out of my comfort zone. I continue to learn new things. Recently I was so honored to be able to participate in a mural project with other artists, including my friend and mentor, Steve Wilson. The mural is on the side of a building next to the new Career Link Center on the Manheim Pike.
Last spring I also participated in the Rivertowns Plein Air event and several other smaller paint-outs around the county with the Fair Weather Painters from the Lancaster Art Association.
I also am currently participating in The 100 Day Project and an online Urban Sketching course, both with worldwide participation. The 100 Day Project is self-directed, where the artists each choose a creative project to do every day for 100 days and share online. This exhibit has some of the pieces from the 100 Day Project.
For this year's project, I am using Aeropress Coffee Filters that have been previously used. I like the idea of upcycling and want to see how many ways I can use the filters to make art.
The Urban Sketching course is taken at one's own pace and encourages regular drawing from observation, either indoors or outdoors.
With my art, I hope to create a story or a mood. Many of my paintings reflect my surroundings either at home in Lancaster County or in my travels to Iceland, Costa Rica, Europe, and all over the US.
I hope to hear from you if you want to go on this journey with me. I will be happy to do commissions. Message me if you are interested in a special commission just for you, a friend, or family member.
Learn more
You can find Morris on Facebook, Instagram, and the web.
Click here to learn more about Morris and see more of her artwork.
You can also reach Evanna via email at EvannaMorris@gmail.com.
Uncharted Lancaster 
Adam Zurn from Uncharted Lancaster will be here with his exclusive mini-adventure that celebrates both downtown Lancaster and the building's history as well as local architecture. Fantastic prizes are up for grabs with your choice of either a 1.25″ soft enamel pin, a 3″ embroidered patch, or in honor of my upcoming treasure hunt a 1.18″ metal replica Spanish Doubloon.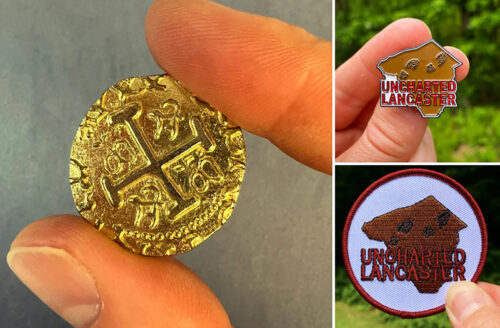 We will also have beautiful 18″ x 24″ prints of William Wagner's 1821 map of Lancaster County. This restored and edited document serves as the treasure map for Uncharted Lancaster's upcoming $1,500 Easter Egg Treasure Hunt, with profits going towards our digital archiving project. Order your map today because the hunt begins on April 9, 2022. Click here to read more about this exciting five-week-long treasure hunt.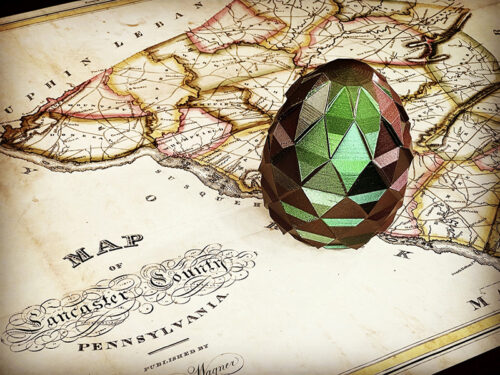 Can't make the open house? Click here to order your treasure map online.
Historic Preservation Trust of Lancaster County
The Trust was established in 1966 to help "stem the rapid destruction of historic properties in Lancaster County." Through the years, the Trust has been active in helping to preserve many historic properties in Lancaster County that contribute to their respective communities as unique places for people to live, work, and play.
Our equation for success has been working for over 50 years. Look around you and know that our advocacy and direct action have resulted in saving hundreds of historic structures and other sites throughout the county. The flip side is that not everything can and should be saved. The Trust continually faces this delicate balance and works closely with all parties involved to reach an equitable decision for all. Sadly, it sometimes takes an irreplaceable loss to a community before preservation moves higher on the priority list.