Historic Preservation Trust Documents Now Available
A major first step toward making records on more than 10,000 historic properties in Lancaster County available online has become a reality. The Preservation Trust's Our Present Past has been digitized and is posted on the Preservation Trust's website – www.hptrust.org.
"This is a significant achievement not only because it makes research of our county's architectural history easier but also because it gives us peace of mind in knowing that we have digital files of the massive paper records that we maintain at our downtown Lancaster library," said Lisa Horst, president of the Historic Preservation Trust of Lancaster County Board of Directors. "Our records date back to the founding of Lancaster County in 1729 so it is very reassuring to have digital backup files. Digitizing Our Present Past is phase one. The second phase involves digitizing hundreds and hundreds of file folders and other references. The third phase will merge phase one with phase two."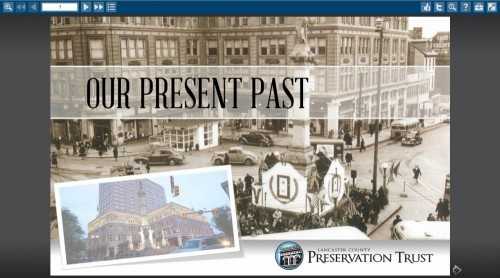 Funding for the Preservation Trust's digitization initiative came from the Steinman Foundation and the Lancaster County Community Foundation.
The 559-page Our Present Past is a compilation of thousands of thumbnail sketches on homes, barns, bridges, mills and other Lancaster County structures that are historically significant. The reference is organized by township or borough and then property by street address based on county-wide surveys of historic properties that were conducted in the 1970s and 1980s. It also contains chapters on "The History and Development of Lancaster County," "Lancaster County's Architectural Terms and Styles," "Preservation Aids" and "Preservation Techniques."
Our Present Past was published in 1985 and was compiled by Historic Preservation Trust volunteers with support from the Lancaster County Planning Commission, the City of Lancaster, the Bureau for Historic Preservation, the Pennsylvania Historical and Museum Commission and LancasterHistory.org.
Horst said online users of Our Present Past — such as realtors, architects, attorneys, contractors, students and historians — can now find information on historical properties with a simple word search.
"This is a vast improvement over manually going through almost 600 pages looking for addresses and sometimes partial information on property locations," she added.
Lancaster-based NxtBook Media, a global full-service digital publication platform developer, is digitizing the Historic Preservation Trust archives. Nxtbook Chief Inspiration Officer Michael Biggerstaff said:
"Digitizing historic documents opens up the possibility of discovery to anyone with access to a computer or smartphone, and allows for future linking of assets with related information. This is a best-case scenario of using the technology of today to build upon the history of yesterday."
Biggerstaff said the NxtBook development team is already working on phase two with a goal of having it ready to post online over the next 24 to 36 months, depending on how well the manual scanning of Preservation Trust's paper archives goes. Horst said volunteers are needed to help with the scanning of documents as well as the general maintenance of the archives.
"Phase two will be an on-going process as new information on historical properties is gathered through survey updates and individual property owner sources," she added. "The work by NxtBook Media is making all of this possible."
Volunteers interested in helping with the scanning should contact the Historic Preservation Trust at 717-291-5861 or joepatterson@hptrust.org.
About the Historic Preservation Trust of Lancaster County
Founded in 1966 to "stem the rapid destruction of historic properties in Lancaster County," the Historic Preservation Trust of Lancaster County's mission is to encourage and facilitate historic preservation countywide. The trust has been directly involved in preserving important Lancaster County landmarks and has provided advice, assistance and guidance in the protection of others. The trust is a member-supported, 501(c)3 non-profit organization located in the historic Sehner-Ellicott-von Hess House (1787) at 123 North Prince Street in downtown Lancaster. Visit www.hptrust.org for additional information.