Virginia Kirchner Elected to Historic Preservation Trust Board of Directors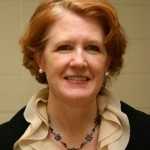 Virginia Kirchner has been elected to the board of directors of the Historic Preservation Trust of Lancaster County.  As a volunteer, she is chairing the 2013 Gourmet Gala that will be held on Sunday, May 19, at Lime Spring Farm on Marietta Avenue. The gala is the Preservation Trust's major annual fundraiser to support programs that encourage and facilitate historic preservation throughout Lancaster County.
Originally from Lancaster, Kirchner has worked as a consultant and internationally in a project management role with Fluor Corporation – the global engineering construction firm.  Her assignments have taken her to Alaska, California and New York in the United States, to London and Birmingham in the United Kingdom and to Perth and Port Hedland in Western Australia.
She is now a logistics manager with Lancaster General Health.
Kirchner graduated from Pennsylvania State University-University Park with a Bachelor of Arts degree in telecommunications and from Pepperdine University with a Master of Business Administration. She is a member of the 2013 Leadership Lancaster Class.
About the Historic Preservation Trust of Lancaster County
Founded in 1966 to "stem the rapid destruction of historic properties in LancasterCounty," the Historic Preservation Trust of Lancaster County's mission is to preserve and protect LancasterCounty's rich historic and architectural character through education, advocacy and direct action. The trust has been directly involved in preserving important LancasterCounty landmarks and has provided advice, assistance and guidance in the protection of others.  The trust is a member-supported, 501(c)3 non-profit organization located in the historic Sehner-Ellicott-von Hess House (1787) at 123 North Prince Street in downtown Lancaster.  Visit www.hptrust.org for additional information.