Tour of Historic Coastal Southern Cities Offered by the Historic Preservation Trust
Cities in the South with proud traditions of historic preservation, like Lancaster, will be featured during a seven-day tour that will begin on September 22. Destinations on the motor coach tour will be Charleston and Beaufort in South Carolina; Savannah, Jekyll Island and St. SimonsIsland in Georgia; and Jacksonville and St. Augustine in Florida.
"The highlights of this tour are numerous," said Lisa Horst, president of the board of directors of the Historic Preservation Trust.  "Some of the most noteworthy are visiting Charleston's Boone Hall — one of America's oldest working plantations that still grows crops as it was done 320 years; staying for two nights at the beautiful Jekyll Island Club; and touring parts of America's oldest city, St. Augustine, by trolley."
The tour is limited to 30, and those signing up by Friday, March 22, 2013, will get a $200 discount off the per person rate of $2429 (double occupancy).  The tour is organized by Collette Vacations and Travel Leaders. An information session about the tour will be held at 6:30 pm on Monday, March 4, at The Horst Building, 320 Granite Run Dr. (2nd floor training room).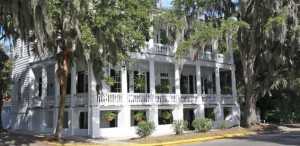 Charleston, South Carolina
Horst said this tour will appeal to anyone who enjoys history, excellent restaurants and accommodations and memorable sightseeing stops.  After a flight from Harrisburg, the tour group will spend Day 1 and Day 2 in Charleston.  Day 3 will be spent visiting Beaufort and Savannah, with departure on Day 4 from Savannah for Jekyll Island. Day 5 will be on Jekyll Island and St. Simons Island; and Day 6 on Jekyll Island and in St. Augustine and Jacksonville.  The tour will depart from Jacksonville back to Harrisburg on Day 7.
Additional information about the tour is available at http://www.collettevacations.com/link/552261