John Metzger Elected to Historic Preservation Trust Board of Directors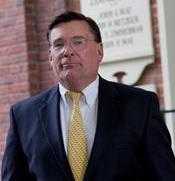 John Metzger, senior partner with May, Metzger, Zimmerman LLP in Lancaster, has been elected to the board of directors of the Historic Preservation Trust of Lancaster County.
Metzger has extensive experience in representing fiduciaries in the context of decedent's estates and trusts. He also specializes in estate planning.  He is a lecturer on estate, probate, will, fiduciary, taxation and historic preservation easements.  He has presented before the National Business Institute, the Pennsylvania Bar Institute and the Lancaster Bar Association.
In 2005, Metzger and his wife, Mary, as general contractor, directed the rehabilitation and expansion of the Abraham Herr House (1721) in Lancaster Township.  This project was presented a historic preservation award by the Historic Preservation Trust.
Metzger has served as a trustee of the Heritage Center Museum in Lancaster
and headed the museum's planned giving committee. He also serves as chairman of the Lancaster Township Zoning Hearing Board.
After graduating Cum Laude from the University of Richmond, Metzger attended The Temple University School of Law where he received his juris doctor degree with distinction. Metzger was recently elected to a three year term on The Probate Council of the Real Property Probate and Trust Law Section of the Pennsylvania Bar Association.
The Historic Preservation Trust Board provides the non-profit organization with guidance and leadership as it brings individuals and organizations together to identify and protect homes, barns, bridges and other Lancaster County structures that are historically significant.
About the Historic Preservation Trust of Lancaster County
Founded in 1966 to "stem the rapid destruction of historic properties in LancasterCounty," the Historic Preservation Trust of Lancaster County's mission is to preserve and protect LancasterCounty's rich historic and architectural character through education, advocacy and direct action. The trust has been directly involved in preserving important LancasterCounty landmarks and has provided advice, assistance and guidance in the protection of others.  The trust is a member-supported, 501(c)3 non-profit organization located in the historic Sehner-Ellicott-von Hess House (1787) at 123 North Prince Street in downtown Lancaster.  Visit www.hptrust.org for additional information.