Historic Preservation Trust Makes Thaddeus Stevens Poster Available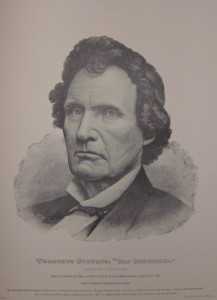 Lancaster, PA – Posters of Pennsylvania Congressman and Lancaster resident Thaddeus Stevens (1792 -1868) are being made available to the general public by the Historic Preservation Trust of Lancaster County.  The price per poster is $25. 
"Interest in Stevens has grown since the release of Steven Spielberg's movie 'Lincoln' in which Oscar winning actor Tommy Lee Jones plays Stevens," said Lisa Horst, president of the Historic Preservation Trust.  "These 18 inch by 26 inch posters are high-quality reproductions of the 1898 original."
Congressman Stevens, chairman of the powerful House of Representative's Ways and Means Committee, made it possible for Abraham Lincoln to win the uphill struggle of passing the 13th Amendment to the Constitution of the United States to end slavery.   Stevens was the unsung hero of his time and the movie.                                                                                                                                                                                                                      Throughout his life, Thaddeus Stevens had an unyielding commitment to freedom and equal opportunity for all. He also is considered the father of the 14th and 15th amendments to the U.S. Constitution, which extended equal protection to all citizens and granted all male citizens the right to vote. Historians have recognized him as one of the most powerful parliamentarians ever to serve in Congress, and as a man who had more influence on his time than many U. S. Presidents.                                                                                                        
"A native of Vermont, Stevens chose Lancaster in 1842 as the place for his law practice.  He is one of our most distinguished citizens, and we are proud that his home/office on Queen Street still stands.  So does the house around the corner from his," Horst said.  The house around the corner on Vine Street belonged to his long-time business partner Lydia Hamilton Smith (1815-1884).
Horst said the Historic Preservation Trust of Lancaster County led the effort to save the Thaddeus Stevens and Lydia Hamilton Smith houses and that the posters were first made available for Preservation Trust members during that initiative. The facades of both houses have been restored; they are now part of LancasterHistory.org.