Historic Preservation Trust Launches New Website and Membership Drive
 Lancaster, PA – The Historic Preservation Trust is getting a makeover with the launch of its new website at www.hptrust.org and its 2013 membership drive.
"Freshening up our web site has been a priority, and we are pleased with the outcome," said Lisa Horst, president of the board of directors of the Historic Preservation Trust.  "In addition to finding the new www.hptrust.org easy to navigate, visitors will find background on our efforts to identify and protect historic structures countywide, information about our services and programs, details on upcoming Preservation Trust events, online sign-ups for volunteers and PayPal for financial supporters.  We also provide posting opportunities for area businesses that offer historic preservation services and realtors with historic properties for sale." 
The Preservation Trust's 2013 membership drive also has a new look in that the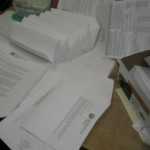 categories for membership have been streamlined so there are now five categories – seniors (age 60 or older) or students ( $25), individual ($40), family ($100), business ($250) and leadership ($500).  Horst said past membership was divided into an individual/family category and a separate business/corporate category with each having subcategories. Joining the Preservation Trust is simplified even further with a registration form and PayPal on the new website.
 In the 'Support' section on the new website, the organization has posted a Wish List in hopes of gaining even more community involvement:
Historic Preservation Trust 2013 Wish List
Volunteers to assist with countywide survey of historic properties. 15 to 20 teams of two are needed to make on-site inspections, make notes and take photos.

Volunteers to serve on committees that organize special events (Gourmet Gala and annual awards dinner), promote historic preservation, maintain the Sehner-Ellicott-von Hess House (circa 1787) and help with fundraising.
Sponsor(s) to underwrite costs for technology upgrades so thousands of paper files on historic properties countywide can be digitized and computerized.
Sponsors to support our Gourmet Gala on May 19 at Lime Springs Farm and the annual meeting and awards dinner in November.
Advertisers for special events and publications.
Businesses with historic preservation services to post information on our website at the cost of $120 per year per posting.
Realtors to post historic properties for sale ads on our website at $50 per month.
About the Historic Preservation Trust of Lancaster County
Founded in 1966 to "stem the rapid destruction of historic properties in Lancaster County," the Historic Preservation Trust of Lancaster County's mission is to preserve and protect Lancaster County's rich historic and architectural character through education, advocacy and direct action. The trust has been directly involved in preserving important Lancaster County landmarks and has provided advice, assistance and guidance in the protection of others.  The trust is a member-supported, 501(c)3 non-profit organization located in the historic Sehner-Ellicott-von Hess House (circa 1787) at 123 North Prince Street in downtown Lancaster.  Visit www.hptrust.org for additional information.