English High Tea Set for Historic Preservation Trust Courtyard on May 10
The courtyard at the Historic Preservation Trust headquarters at 123 North Prince Street will be the setting for an English High Tea on Saturday, May 10, from noon to 4 p. m.
"The courtyard at the Preservation Trust is a beautiful venue and quite appropriate for a tea in the tradition of European teas," said Donna Lussier, owner of La Petite Patisserie and hostess for the event.  "Proceeds from the tea will benefit the Preservation Trust's countywide initiatives to identify and protect homes, barns, bridges, mills and other structures that are historically significant."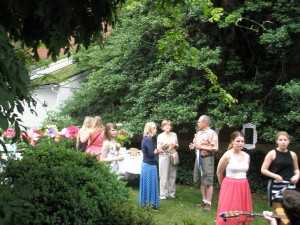 According one account, Anna Maria Stanhope (1783-1857), a lady-in-waiting to Queen Victoria and known as the Duchess of Bedford, is credited as the creator of afternoon teatime. Because the noon meal had become skimpier, the Duchess suffered from "a sinking feeling" at about four o'clock in the afternoon.  At first the Duchess had her servants sneak her a pot of tea and a few breadstuffs. Adopting the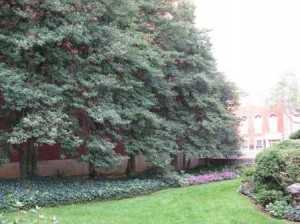 European tea service format, she invited friends to join her for an additional afternoon meal. The menu centered around small cakes, bread and butter sandwiches, assorted sweets, and tea. This summer practice proved so popular, the Duchess continued it when she returned to London, sending cards to her friends asking them to join her for "tea and a walking the fields." The practice of inviting friends to come for tea in the afternoon was quickly picked up by other social hostesses.
The tea at the Preservation Trust on May 10 will feature  a variety of  teas, scones with lemon curd & crème frache. chilled strawberry soup with chocolate Balsamic drizzle, asparagus crostini, fresh baked Parmesan cracker with Basil cream cheese, ham & cheese en croute, spinach soufflé, turkey & presto pinwheels, French macarons, lemon tea cake, Miesse chocolate, mini éclairs with orange pastry cream and raspberry and almond cheesecake petit fours.
The cost is $35 per person.  Reservations are required by calling 717-424-1631.
About the Historic Preservation Trust of Lancaster County
Founded in 1966 to "stem the rapid destruction of historic properties in Lancaster County," the Historic Preservation Trust of Lancaster County's mission is to encourage and facilitate historic preservation countywide. The trust has been directly involved in preserving important Lancaster County landmarks and has provided advice, assistance and guidance in the protection of others.  The trust is a member-supported, 501(c)3 non-profit organization located in the historic Sehner-Ellicott-von Hess House (1787) at 123 North Prince Street in downtown Lancaster.  Visit www.hptrust.org for additional information.