2013 List of Most Threatened Historic Properties in Lancaster County Released
Lancaster, PA – Three  properties from the 2012 list of most threatened historic properties in Lancaster County are not on the Historic Preservation Trust's 2013 list.
"This is a good news, bad news report," said Shirlie O'Leary, chair of the Historic Preservation Trust of Lancaster County's Preservation Action Committee.  "Happily, two of the properties on the 2012 list – the Stehli Silk Mill and the Donegal Plantation – have been removed because they are being developed for adaptive reuses.  Unfortunately, we lost the Gerber-Garber House in West Hempfield because this 1753 property was not on West Hempfield's historic resources list. Consequently, a demolition permit was issued without contacting the Historic Preservation Trust for a recommendation."
York-based developer Matt Bupp is transforming the Stehli Silk Mill (1898) at 701 Martha Ave. in Lancaster into a mixed-use commercial, retail and residential complex.  At one time the Stehli Silk Mill, with more than 250,000 square feet on 12 acres, was the largest silk mill in the United States.
The Donegal Mills Plantation – Federal style mansion (pre-1798) and mill (1830) – at 1190 Trout Run Road in Mount Joy is being renovated by the owners, George and Frank Zink, into a venue for meetings and weddings.
The Gerber-Garber house (1753) that stood at 3948 Continental Drive in West Hempfield Township was on land deeded by William Penn's sons in 1741 to Christian Garber. Even though there were parties interested in moving the house to a new location, it was torn down by its York-based owners.
Properties on the Historic Preservation Trust's 2013 Watch List are:
Circle Creek Farmhouse/Guy's Distillery (1826) – 1467 Long Lane, East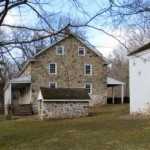 Donegal Township
The Circle Creek Farmhouse was originally a commercial distillery (Guy's Distillery) and was made into a farmhouse in 1834 by Christian Haldeman.  Located in the Chickies Historic District, this building was designated as being important to the Commonwealth of Pennsylvania when it was placed on the National Register of Historic Places in 2005.  Since 1988, it has been unoccupied.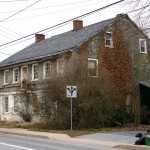 Eagle Tavern (1815) – 901 Village Road, West Lampeter
This two and one-half story, Federal style stone building was one of the best of all taverns ever built in a small town in Lancaster County. Known as the Eagle Tavern, it was built first as a house for Samuel Miller and his wife, Anna in 1815, as noted in a datestone centered on the western gable end — one of the earliest uses in Lancaster County of a lozenge shaped date stone. The building has a chimney on each gable end, as well as, a centrally located chimney.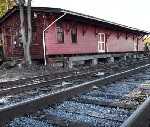 Elizabethtown Borough Freight Station (1915) – South Wilson Avenue, Elizabethtown
The Freight Station stands adjacent to a former Pennsylvania Rail Road spur and is reminiscent of the Craftsman Style. The building featured a 6-foot-wide loading dock with overhanging eaves supported by wooden brackets on each long side. A concrete base nearby served as support for a crane. Local and state government officials have approved demolition of this  historic structure, but efforts are still underway to move it to a new location.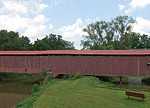 Herr's Mill Covered Bridge (1875) – 101 South Ronks Road, Paradise
The only double-span covered bridge in Lancaster County crosses the Pequea Creek and the adjacent mill race. It was listed on the National Register of Historic Places in 1980.  Concerned citizens and organizations are working with the Lancaster County Commission to save this structure.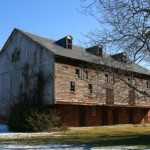 Hoober-Eby Barn (c. 1860) – 2797 Lititz Pike, Neffsville
Built by John Eby, this distinctive farm structure is a character-defining element of the Lititz Pike streetscape. The barn retains a high degree of integrity and would be National Register eligible. The house and pig barn on this property have already been demolished.
Log House & Root Cellar (c. 1800-1825) – 522 Norwood Road, Columbia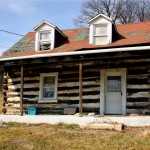 The 1864 Atlas lists C.J. Sweeney as occupant of this log structure – no previous deed records have been found. Despite alterations and evident neglect, this is a good example of a simple log house. The nearby root cellar is noteworthy in itself.
Mayer-Hess Farmstead (c. 1870-1874) – 1580 Fruitville Pike, Lancaster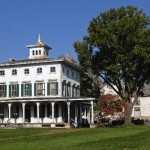 This distinguished Italianate style farmhouse and barn are on the last remaining farmstead, previously owned by David Mayer, off Route 30, before entering downtown Lancaster. The three story, five bay residence is complemented by a central cupola with a bracketed cornice. Centered entry doors are paneled; 3rd floor windows are smaller and slightly arched. The adjacent barn matches the scale and integrity quality of the farmhouse and contributes to the farmstead environment. The current owner is considering restoration options, and  Manheim Township is reviewing ordinances to strengthen historic preservation.
Smoketown Farm House (c. 1850 and 1911) – 2425 Old Philadelphia Pike, East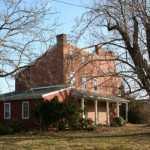 Lampeter Township
The farmhouse and barn on the property are to remain on the site until the owners consult with the Historic Preservation Trust of Lancaster County. After a presentation by owner representatives, East Lampeter supervisors approved a land development plan for the site and granted five waivers.  The four-acre lot is to be divided into two-acre lots.  The farmhouse and barn are not to be developed.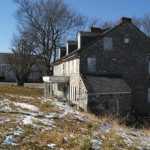 Stehman-Rohrer House (1833) – Charlestown Road, Manor Township
This modified Georgian stone house has paired brick end chimneys and a large center chimney. The structure is 2 ½ stories, eight bay façade with slate roof, five dormers and paired entrances in the 3rd bay from eastern and western ends. The front porch, with its dentils, serrated friezes, and polygonal posts, is one of the finest of its type remaining in Lancaster County.  The date stone reads "Built by Henry & Mary Rohrer, A. D., 1833."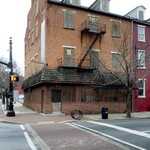 Swan Tavern and Carriage House (1824) – East Vine & South Queen Streets, Lancaster
This 19th Century building is part of the largest group of Federal Period buildings extant in Lancaster. This was a combined tavern and hospital…Lancaster Infirmary and House of Recovery. The structure is sufficiently documented to permit a total restoration to the original. It was one of two private hospitals in the city and a longstanding tavern; one of the oldest in the city. To the rear of this structure is a two story brick stable and carriage house, now stuccoed. This is also part of the original property and one of the oldest extant stables in Lancaster City. The stable has a corbelled brick cornice and a platform lift for carriages The carriage house remains in a  highly threatened condition.
"Being on the Watch List is not a negative because each of the 10 properties represents an opportunity to save a significant structure that helps define our history," O'Leary noted.  "Everyone loves historic restoration after it occurs, but it takes vision, leadership and resources to make it happen.  The Historic Preservation Trust of Lancaster County works to bring together individuals and organizations to make it happen."
About the Historic Preservation Trust of Lancaster County
Founded in 1966 to "stem the rapid destruction of historic properties in LancasterCounty," the Historic Preservation Trust of Lancaster County's mission is to preserve and protect LancasterCounty's rich historic and architectural character through education, advocacy and direct action. The trust has been directly involved in preserving important LancasterCounty landmarks and has provided advice, assistance and guidance in the protection of others.  The trust is a member-supported, 501(c)3 non-profit organization located in the historic Sehner-Ellicott-von Hess House (1787) at 123 North Prince Street in downtown Lancaster.  Visit www.hptrust.org for additional information. Call 717-291-5861 to inquire about the Watch List and the Historic Preservation Trust's on-going surveys of historic properties.