Office Space for Rent in the Historic Sehner-Ellicott-von Hess House!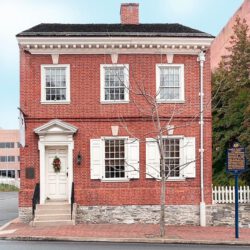 How would you like to work in the beautiful historic Sehner-Ellicott-von Hess House on Gallery Row in the heart of downtown Lancaster?
We have multiple office spaces available on our 2nd and 3rd floors, a shared conference room, and a private office above the kitchen with its own bathroom.
It's a great fit for a professional service provider, a non-profit, civic group, or art group. On-site parking for visitors. Convenient parking for tenants. Security System. The rental price includes electric, central air, heat, and internet access.
For more information, please contact Danielle Keperling at 717-330-9772 or director@hptrust.org.