Gourmet Gala - May 6th 2018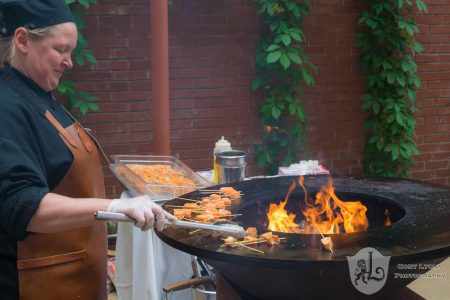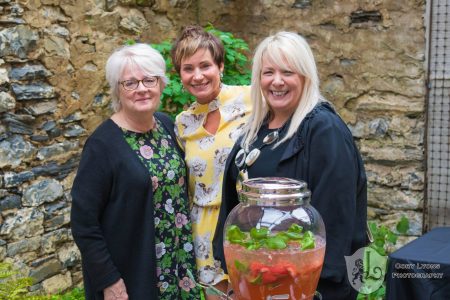 Please join us for the 34th Annual Gourmet Gala on Sunday, May 6th from 4-7pm!  
Held once again at the beautiful and restored Excelsior located in downtown Lancaster, the Gourmet Gala is the longest-running gourmet food fundraiser in Lancaster County. All proceeds from this event will go towards our mission to preserve and protect the rich historic and architectural character of our county through education, advocacy and direct action. Help us to indulge in this elegant evening for the community while trying sweets and savories from around 30 of our county's finest restaurants, wineries, breweries and more. We will also feature a silent auction with a variety of wonderful items. Bring family, friends, and friends of friends!
Tickets available online at hptrust.org, by emailing director@hptrust.org, or by calling 717-824-1245
The Trust would like to thank all of our amazing Gala vendors and sponsors for helping to make this years' event the best one yet!
Sponsors:
Advanced Landscapes
Beers + Hoffman Architecture & Interior Design
Benjamin Roberts Office Interiors
Conestoga View Nursing & Rehabilitation
Ephrata National Bank
Eve Environmental
Galebach's Floor Finishing, INC.
High Real Estate Group
J & J Heating & Cooling
Jeff LeFevre, Realtor, GRI, CRS, Green, e-Pro
Lancaster County Magazine, Media Sponsor
Lancaster County Solid Waste Management Authority
Land Transfer Co
Manbel Devco I, LP
Musselman Lumber
One Hour Heating & Air Conditioning
Orrstown Bank and Orrstown Financial Advisors
Post & Schell PC
PPL Electric Utilities
Pure Water Technology
Redcay Development Companies
Rhoads Energy
rlps architects
Susquehanna Style, Lifestyle Sponsor
The Groves Retirement Home
Trout, Ebersole & Groff, LLP
Two Dudes Painting Company
Vendors:
Altana
Annie Bailey's Irish Public House
Bistro Barberet
Cabalar Meat Co
Callaloo Trinidadian Kitchen
Cameron Estate Inn & Restaurant
Cracked Pepper Catering
Devon Seafood + Steak
Dutch Haven Shoo-Fly Pie Bakery
Federal Taphouse
Geneva Bakery Café
Gypsy Kitchen at the Refectory
John Wright Restaurant
La Petite Patisserie
Lonely Monk Coffee
Nissley Vineyards & Winery Estate
Penn Square Grille
Root
Seasons Olive Oil and Taproom
Signature Catering on King
Stateside Urbancraft Vodka
Stoll & Wolfe Distillery
TÈ
The Hotel Hershey - Harvest
The Log Cabin
The Pressroom
Thorn Hill Vineyards
Union Barrel Works
Waltz Vineyards
Bowmansville Mill Opening Weekend
The Bowmansville Mill will celebrate its' opening June 3rd, one of only four weekends a year the mill is open to the public.  Live demonstrations will be available at one of the country's only remaining water-powered mills, and it's not a site to miss!
The Bowmansville area was settled in 1732 by Mennonites from the Palatinate and Switzerland. Among these early settlers were members of the Guth family. Christian Guth, or Good as the name became known, settled on the Muddy Creek at the southern edge of the village of Bowmansville. On this site he erected a water powered grist mill that may have been a combination of mill, home, and possibly served as a Mennonite church. The property was operated by the Good family through 1843.
Around 1846 the Good family sold the property to Henry Von Neida. In 1850 a portion of the mill was damaged by fire. Henry tore down the old mill and built the present stone grist mill. Henry continued to operate the mill until his death in 1883. Henry's son John Adam Von Neida inherited the mill and operated it until he was fatally injured in 1912 while working at the shafting in the mill. John's son Henry succeeded his father in the business and continued to operate the mill until the early 1950's.
The Mill sat idle for many years and was sold at auction on July 1, 1967 to move the machinery to a mill in Union County, New Jersey. Due to a misunderstanding with the New Jersey politicians the project was dropped. Restoration of the current mill started in 1969 and was completed in 2003.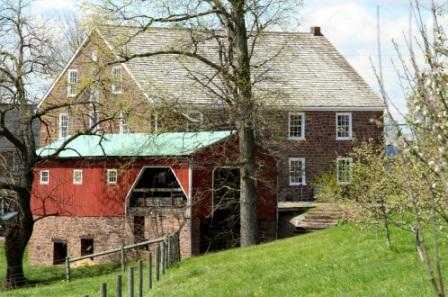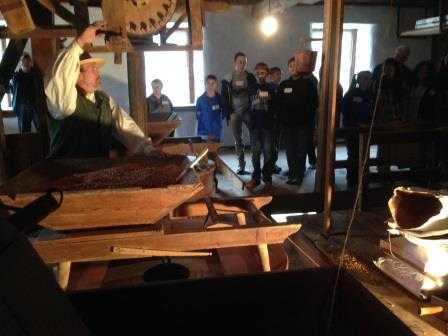 November's Extra Give Fundraiser A Success
On November 17, 2017, The Historic Preservation trust of Lancaster County participated in the Lancaster County Community Foundation's annual Extraordinary Give event, raising a total of $5,185 for the Trust! Despite a ceiling leak canceling its open house, the Trust and its members came together to raise even more money than in 2016.
The Historic Preservation Trust of Lancaster County thanks each of its 60 donors as well as all the volunteers who worked hard to raise awareness of the event. This money will go to preserving the Sehner-Ellicott-von Hess house and funding various Trust programs. Watch out for communications about next year's Give and how you can help!
Made up of over 500 organizations, the Extra Give is Lancaster's largest fundraiser, and with sponsored matches, every dollar donated can go even farther to make a difference in our community.
The Trust invites you to become a member and help make a difference in your community! As a member-run organization, the Trust mebers further our mission to educate and empower the Lancaster community in preserving our architectural heritage.
For more information, visit us online at hptrust.org or call us at 717-291-5861.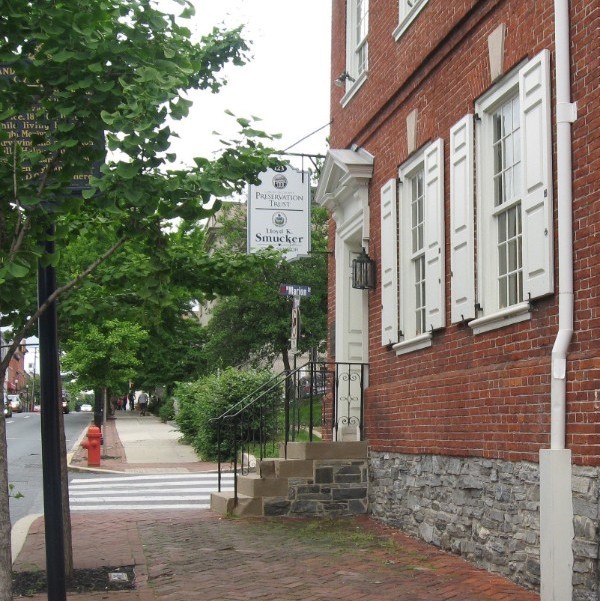 As part of our continuing efforts to improve The Trust's online presence, we have recently unveiled an updated website design. This site will make it easier for visitors to learn more about our mission as well as accessing vital resources on historic preservation in Lancaster.
Highlights include: growing social media presence, more attractive and user-friendly web-page, and more!