With thousands of historic properties in Lancaster County documented, the library at our downtown Lancaster headquarters offers one of the most extensive collections of files on historic properties in the county. These files, complete with photos, are the result of surveys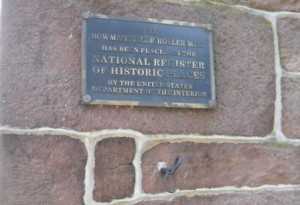 that we conducted across the county in the 1980s and 1990s. Teams of Preservation Trust volunteers are currently updating these surveys.
Property owners, family-tree researchers, developers, attorneys, students, academicians and government officials routinely use our library to study a specific property.
Our library also contains hundreds of books, periodicals and reference materials to help researchers and those with a desire to learn more about historic architecture and related issues. Information can be viewed in our office by appointment. Categories include:
Adaptive Re-Use
Architecture Manuals
Energy Conservation
Historic Districts
Lancaster County
Local Architecture
Publications
Urban Redevelopment
Please contact us advance to review information. Copies of research documents are available (25 cents per page) since files cannot be removed from the library.
Library access is free for Historic Preservation Trust members. The fee for non-members is $10 per day.
.