Old Fashioned Christmas to Welcome Dec. 6th First Friday Visitors at 123 North Prince Street
Old Fashioned Christmas to Welcome First Friday Visitors at 123 North Prince Street
Lancaster, PA – December 6th First Friday visitors to 123 North Prince Street, headquarters of the Historic Preservation Trust of Lancaster County, will be stepping back in time.  The building will be decorated for the holidays reminiscent of   the 1700's and 1800's.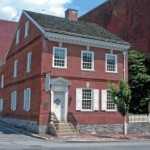 "Lancaster's most distinguished citizens have been guests at what is today the headquarters of the Preservation Trust.  Decorating for the holidays is a perfect way to honor the building's 225-year history," said Lisa Horst, president of the Historic Preservation Trust.  "We will have trees, wreaths, mantels with greenery, fires in the fireplaces and refreshments.  Visitors are welcome to tour this finely restored example of Georgian architecture and its exhibits outlining the story of its   restoration and most famous occupant, Andrew Ellicott."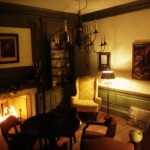 Ellicott (1754-1820) was a master astronomer, engineer, and surveyor.  He completed the survey of the District of Columbia and helped establish the famous Mason-Dixon border, among  many other state boundary surveys. He was personally commissioned by President Thomas Jefferson to train Captain Meriwether Lewis prior to the Lewis and Clark Expedition (1804-1806) that opened up the West for settlement. In later years, Ellicott was the commandant of the U.S. Military Academy at West Point.
The Historic Preservation Trust accepted the donation of the 123 North Prince Street in 1996 through the generous gift of the Louise Steinman von Hess foundation.
Information about First Friday at 123 North Prince Street is available at 717-291-5861 or joepatterson@hptrust.org.  Visitors also can inquire about becoming Historic Preservation Trust members and volunteers and the recently introduced historic site marker plaque program.
About the Historic Preservation Trust of Lancaster County
Founded in 1966 to "stem the rapid destruction of historic properties in Lancaster County," the Historic Preservation Trust of Lancaster County's mission is to encourage and facilitate historic preservation throughout Lancaster County.  The Preservation Trust has been directly involved in preserving important Lancaster County landmarks and has provided advice, assistance and guidance in the protection of others.  The trust is a member-supported, 501(c)3 non-profit organization located in the historic Sehner-Ellicott-von Hess House (1787) at 123 North Prince Street in downtown Lancaster.  Visit www.hptrust.org for additional information.