Gourmet Gala Food & Beverage Participants Announced
Thirty-two of the region's best restaurants, caterers, bakeries, specialty shops, wineries and breweries will serve their specialties to Gourmet Gala guests from 4 pm to 7 pm on Sunday, May 18, at the historic Mylin House (1787) and the adjacent Cultural Center at Willow Valley Communities in Willow Street.
Food and beverage participants are:
BYERS BUTTERFLAKE BAKERY
CAJUNS IN EXILE CATERING
CATERING BY CHRISTINA
CITRONNELLE RESTAURANT
DUTCH HAVEN SHOO FLY PIE BAKERY
FOOD FOR THOUGHT CATERING
FRESH. CATERING
GRACIE'S ON WEST MAIN
GYPSY KITCHEN
THE HAMILTON CLUB
THE INN AT BULLY'S RESTAURANT & PUB
INTERMEZZO BY STEPHANIE
JOHN WRIGHT RESTAURANT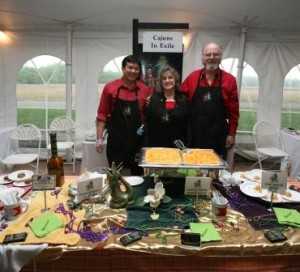 LA PETITE PATISSERIE
LANCASTER BREWING COMPANY
LANCASTER COUNTY COFFEE ROASTERS
LOMBARDO'S RESTAURANT
LONELY MONK COFFEES
MIESSE CANDIES
NISSLEY VINEYARDS AND WINERY ESTATE
PENN SQUARE GRILLE
PIERRE DERAGON PERSONAL CHEF
THE SCARLET RUNNER
SEASONS OLIVE OIL & VINEGAR TAPROOM
SKINNY PARK JUICE
TAMANEND WINERY
THORN HILL VINEYARDS
TWIN BROOK WINERY
UPOHAR
WILLOW VALLEY COMMUNITIES CULINARY SERVICES
YARDS BREWERY
Lisa Horst, president of the Historic Preservation Trust Board of Directors, said:  "Music will be provided by Temple Avenue, the same group that delighted attendees at the 2013 Gourmet Gala.  I
n addition to great music and food and beverage tastings, attendees can bid on auction items ranging from vacations to sports passes to art to gift baskets.  WGAL-TV news anchor Lori Burkholder will emcee, and former Lancaster County Commissioner Pete Shaub will be the auctioneer."
Tickets to the  2014 Gourmet Gala are now on sale.  Prices are $75 per person for Preservation Trust members and $85 for non-members.  Blocks of 10 tickets may be purchased for $650.  To order, call 717-291-5861 or send an e-mail to joepatterson@hptrust.org
Volunteers interested in helping with the gala should contact the Historic Preservation Trust at 717-291-5861 or joepatterson@hptrust.org.  Assistance is needed with set up from noon to       3:30 pm, parking from 3:30 pm to 6:30 pm, auction tables monitoring from 3:30 pm to 7 pm, registration from 3:30 pm to 7 pm, supplies replenishment from 3:30 pm to 7 pm, and clean up from 7 pm to 8:30 pm
Sponsors for the 2014 Gourmet Gala are:
Willow Valley Communities (host site)
Lancaster County Magazine (media sponsor)
PPL Electric Utilities ($1750)
Lancaster County Solid Waste Management Authority ($750)
Penningdon Partners, Ltd. (Nathaniel Ellmaker House) ($750)
Bertz, Hess & Co, LLP ($500)
Conestoga View & Rehabilitation ($500)
Discovery Map ($500)
Hi-Tech Soil Stabilization ($500)
Mercedes-Benz of Lancaster ($500)
Performance Avenues (Despard Associates LLC) ($500)
RLPS Architects ($500)
UGI Utilities ($500)
Ville Painters ($500)
Wohlsen Construction ($500)
Benchmark Construction ($250)
CCS building Group ($250)
Donegal Insurance ($250)
Greenebaum Structures ($250)
GSM Roofing ($250)
Kline's Services ($250)
Prudential Homesale Services – Jeff LeFevre ($250)
Rhoads Energy ($250)
Rohrer's One Hour Heating and Air Conditioning ($250)
Select Security ($250)
Senator Lloyd Smucker ($250)
About the Historic Preservation Trust of Lancaster County
Founded in 1966 to "stem the rapid destruction of historic properties in Lancaster County," the Historic Preservation Trust of Lancaster County's mission is to encourage and facilitate historic preservation countywide. The trust has been directly involved in preserving important LancasterCounty landmarks and has provided advice, assistance and guidance in the protection of others.  The trust is a member-supported, 501(c)3 non-profit organization located in the historic Sehner-Ellicott-von Hess House (1787) at 123 North Prince Street in downtown Lancaster.  Visit www.hptrust.org for additional information.